15th May 2017 marks the 30th anniversary for Telequip, an award winning communications specialist in Cairns. During this time Telequip has evolved from a phone system and cabling business to a one-stop-shop for all business communications needs.
Managing Director, Christine Oberhamberger remarked: "We have achieved this milestone through hard work, the dedication of our specialist team and our culture of customer service throughout our entire organization. We have been a leader in innovation for 30 years and strive to provide our customers with the highest quality services."
Telequip has won several awards over the years, the newest achievement being Samsung Dealer of the year for Australia.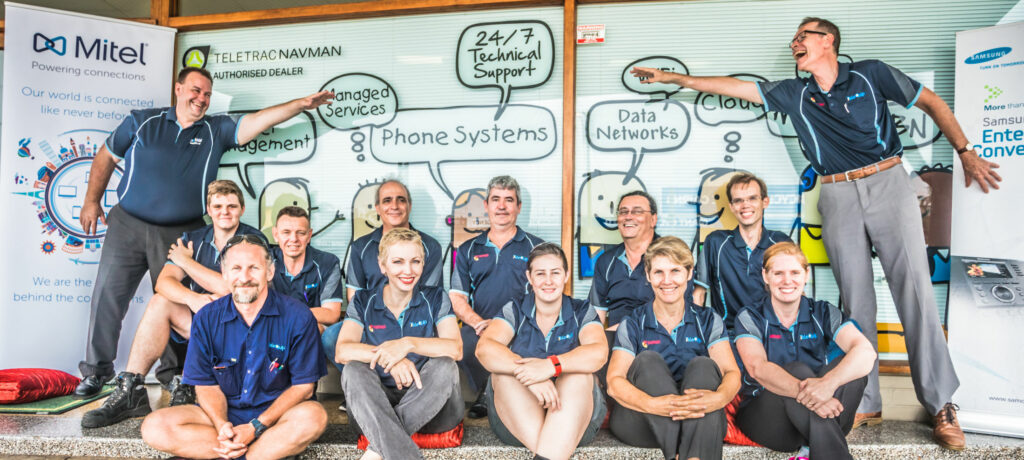 Telequip's expansion to being the one stop shop for all business communications needs includes transition to NBN, design and implementation of WIFI solutions as well as Fleet Management solutions. "Being the only Authorised Teletrac Navman partner in Cairns we have been helping businesses across Far North Queensland to manage their fleets", says Sales & Marketing Director Eric van Eeghen. "In particular driver behaviour & safety has become a major issue for businesses to meet their duty of care responsibilities towards staff. Many business owners are not aware that this is not only relevant for large businesses and truck fleets. It actually applies to every business that has staff on the road; everybody from a plumber to a sales representative is included."
"We really owe our success to our loyal customers, some of whom have been with us for 30 years. Throughout 2017, we will be taking a look at where we started, what we have achieved, and what our plans are for the future", emphasises Christine Oberhamberger. "To say THANK YOU and celebrate with our customers, we offer a special 10% discount on all handsets (with the exception of mobile phones) during the month of May".
Donations to local charities are one of Telequip's contributions to the community. "We work closely with several community organisations and are proud to announce a donation of $3,333 to local Not-for-Profit organisation Wuchopperen Health Services Limited. We recognise Wuchopperen's great work in improving health for FNQ Aboriginal and Torres Strait Islander communities across Far North Queensland," states Eric van Eeghen. "Their achievements over the past 35 years in delivering primary healthcare, allied health, wellbeing and early childhood services are not widely known. We recognise that the work undertaken by organisations such as Wuchopperen is important for our community. This is why we were happy to donate this money to them."
Wuchopperen Health Service Limited is a community controlled organisation that delivers a suite of holistic primary health care services to Aboriginal and Torres Strait Islander communities across Far North Queensland. Wuchopperen employees 181 staff across three sites with the main site being at Moignard Street in Manoora, and sites in Edmonton and Atherton. Find out more about Wuchopperen Health Services at www.wuchopperen.org.au
For media enquiries please contact: Eric van Eeghen on 07 4047 7000 or visit our website www.telequip.net
About Telequip
Telequip is a leading provider of telecommunication systems in Far North Queensland. We have been providing professional, tailor-made communications solutions, to local and regional businesses since 1987.
Telequip provides innovative telecommunications solutions based on sound technical expertise and our established supplier relationships to offer benefits that improve our customers' businesses.

What we do:
Design and implement tailored business communications packages for businesses.
Your bill reviewed, explained and presented in an easy to read format to show how you can benefit from the most effective combination of services. Telequip will implement the changes and follow up with Telstra to ensure you get the correct billing.
Voice over Internet Protocol on NBN with Telstra as an alternative to traditional telephone lines.
GPS fleet management and compliance solutions from Teletrac Navman. Our in-house trainer means local support for your business.
We are the one stop shop for business mobility. We take care of your business mobile needs with your business in mind.
Specialist knowledge in IP telephony and Computer Telephony Integration (CTI) applications, integrating PBX into mail servers, Customer Relationship Management (CRM) and hospitality systems.
Phone and video conferencing solutions for all your needs.
Supply & installation of rental phone systems for short term and longer term projects.
Audit, repair or supply of WiFi solutions for business & hospitality.
Specialist knowledge in network design, setup, configuration and optimisation. We can set up and connect phone systems across multiple sites providing managed solutions or work directly with your IT provider to ensure optimal setup.
A dedicated phone system maintenance division, providing 24/7 fast service when you need us.